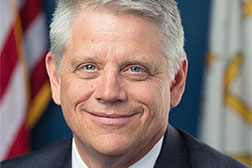 Our guest this episode is Scott Jensen, Director of the Rhode Island Dept. of Labor and Training. We start by looking at the Block Island Wind Farm, the nation's first and still only operating offshore wind project, and how it has shaped the workforce in the state. We then talk about Governor Gina Raimondo's vision for offshore wind and for positioning the state as a leader in continuing to meet the industry's workforce needs. We then dive into some of the industry's challenges and gaps, discuss some of Rhode Island's unique resource and programs, and even touch on the origins of the Quonset Hut. We close with Scott sharing some of his perspective having served in two gubernatorial administrations in two states at two different stages of the offshore wind industry. 
Resources mentioned in the show include: 
Quonset Development Corporation

 
Recorded July 25, 2019. Published August 20, 2019.